---

Music To Your Ears
Finally - a program to aid the songwriter/musician where he needs it the most! -
For Windows 95, 98, Me,NT, 2000 (32-bit Windows)
Songwriters --
When was the last time you couldn't quite get the right chord to fit your melody?
Musicians --
When was the last time you couldn't quite get the right chord to that new song you were trying to learn from a CD?
Now, Music To Your Ears has come to the rescue! Wouldn't it be great to know all the notes to all the chords?
Scenario #1 - You are trying to figure out the chords to a new song from a CD you just bought. You are listening hard, but you just can't figure out a couple of them. You have figured out an 'A' note, but A and Aminor just didn't work. They didn't sound right. If you knew all the notes that were in all the chords, you could just play each one until you found the right one -- OR
You could just run Music To Your Ears. All you would have to do is click on the 'A' note in the notes box and all the most common chords which have an A note in them would be listed in the next box. Then, you could just click on any one of those chords and the guitar chord diagram would pop-up!
Scenario #2 - You are a songwriter or composer who has just written the best melody you have ever written. But -- you just can't come up with the right chord sequences to tie it all together.
You could just run Music To Your Ears. All you would have to do is click on one of the notes in the melody to list all the most commonly used chords which have that note in them and choose from the list.
Also, Music To Your Ears is great because it's a complete learning tool.
There's a screen that, once you click on a chord name, it shows all the notes in that chord.
If you are learning guitar, or want to know more chords, there are two places in Music To Your Ears that show you how to play the guitar chord you just clicked on.
Here are some screen shots of the program: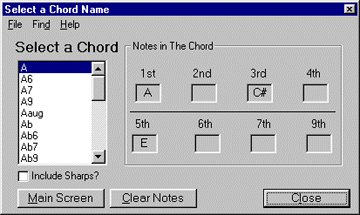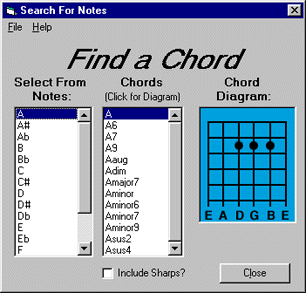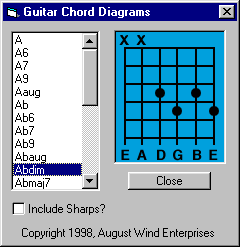 Finally, this is the answer you've been waiting for. And it's shareware! You can check it out first, before you decide if it's right for you. Then, once you decide you do want to purchase it, the price is only a low $20. That's right - only $20.
Pay NO attention to the line above - for a limited time - and maybe forever - it's now free to download.
NOW - Music To Your Ears is
Post-Card-Ware
If you decide to keep using Music To Your Ears, then you must do one of two things:
Send me a money order with a monetary amount you think is fair for this program

OR

Send me a Post Card (a nice one) from the city where you live - a post card with a picture on the front that has something to do with your city.

if you do choose to support Music To Your Ears financially, send the check or money order to:


David Wier
2821 Fern Glen
Garland, TX 75043

Either way - I hope you enjoy the program and I thank you for your support and comments!
Remember - a lot of work went into the creation of this program and these web pages concerning Music To Your Ears!
---
DownLoad Now!
(About 5Mb)
Very Important -- Be sure to read the You'd Better ReadMe.txt File after installing!
This tells you how to install the chord diagram graphics.